From 2014 to 2017, I had been a visual designer at Samsung Design Membership, a designer training program of Samsung Electronics. Through this program, students in product design, communication design, and UX design developed new products or services by teaming up with each other. They annually released their outputs through the exhibition called MCP: Membership Convergence Project.
For the exhibition in 2016, as a member of a task force, I took the role of planning the overall exhibition and creating a visual theme. First of all, we decided on the exhibition title as "Melting Point" to deliver the meaning of convergence in an easier and familiar way to the public.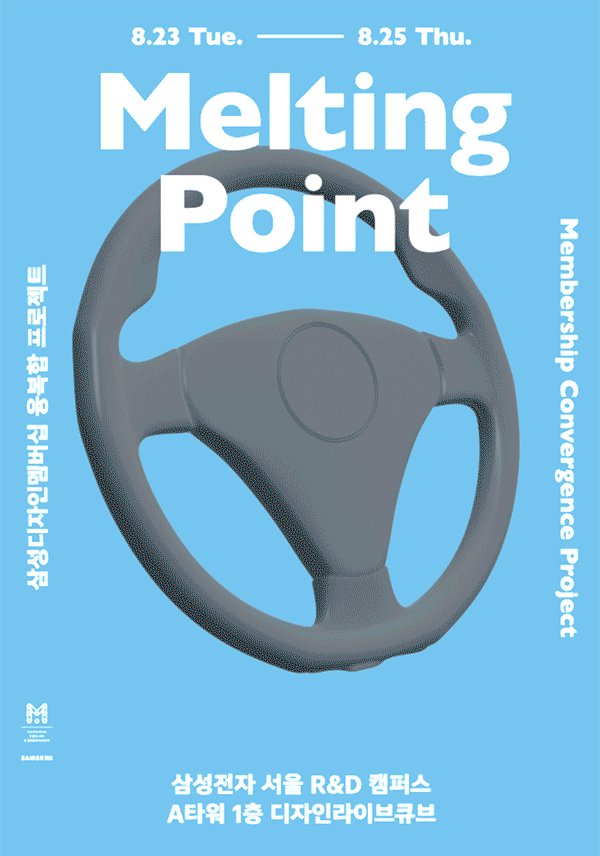 There were total of 11 teams that participated in the exhibition. We made 11 iconic 3D objects which represent these 11 design projects, and we made key visuals of those objects melting with the exhibition title using motion graphics. The motion posters were communicated mostly via digital media.
The 11 posters of melting objects served as a teaser that intrigued the audiences, and the onsite video eventually delivered the meaning of convergence showing those melted objects converging with each other. The exhibition task force, consisting of graphic designers, product designers, and motion designers, developed together not only graphics but the overall zoning, exhibition journey, display stands, and even the content of keynote speech.