In 2016, the graduate exhibition of the visual communication design department of Hongik University faced two challenges. The first was to organize the work of 165 graduates under a united theme, and the second was to develop an eco-friendly and economical solution to replace the large amounts of wooden podiums which had been disposable.
After a lot of research, we, the planning team, developed a solution of renting plastic crates and palettes, originally used for transporting products, from a distribution company and make podiums by assembling them. They were lighter to carry than formal wooden podiums and even easier to assemble which allows students to create various shapes. Above all, they were 100% recyclable because they were all returned to the company after use.
Though it is common to set an exhibition theme first, I necessarily had to associate it with the plastic crate which we already decided to use. Since the plastic crate was in the form of black cube, I imagined the space where the cubes randomly piled up while dividing zones. This made me come up with a crossword puzzle. The black rectangles in the crossword serve to distinguish different words, while the words are connected with each other sharing common alphabets. Regarding that the nature of crossword is similar to our exhibition where each work contains different messages but are connected together, I took the crossword as a whole theme of the exhibition.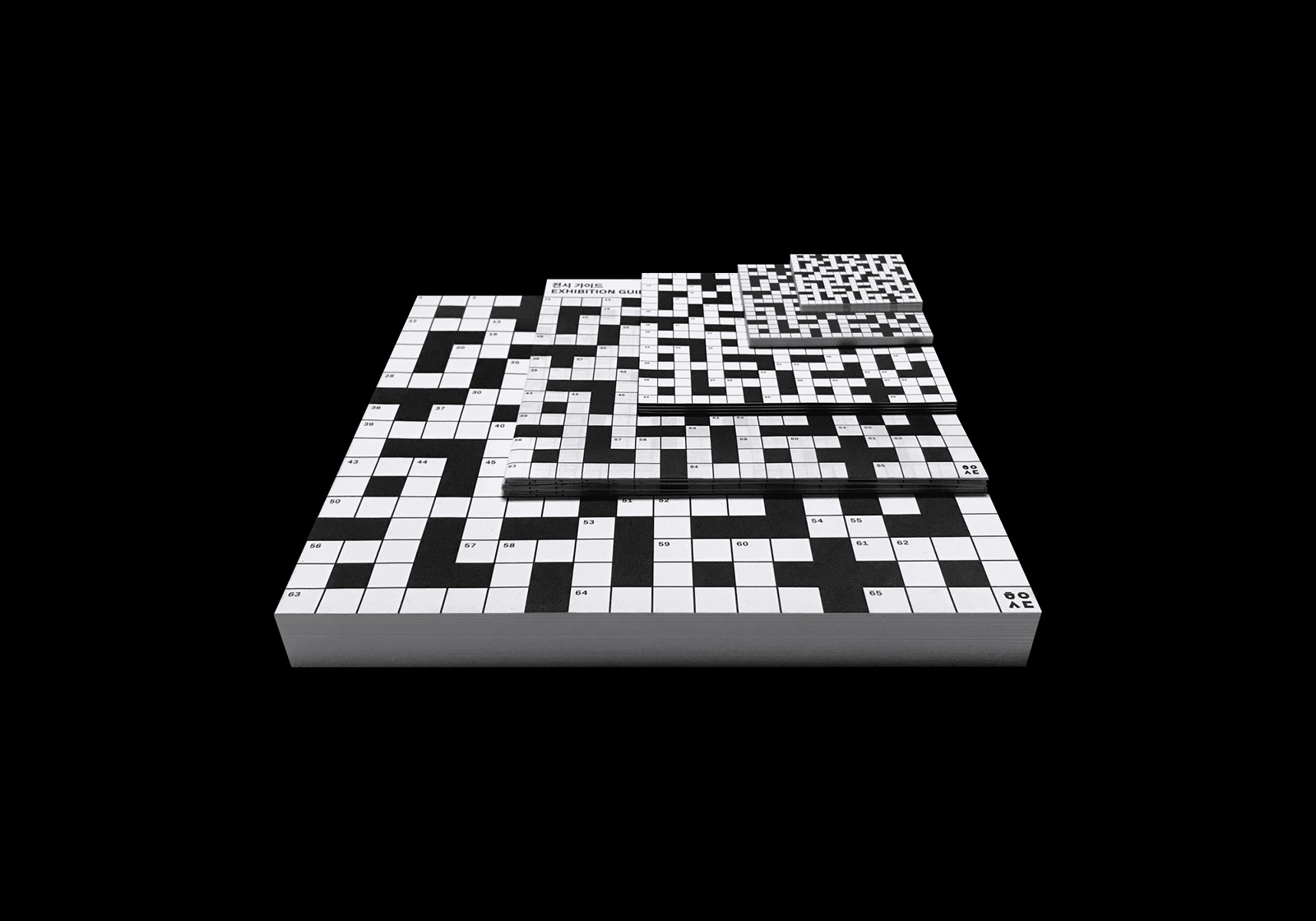 I metaphorically described the significance of the graduation exhibition, through which individuals form groups and further expand into society, by simply extending the size of crossword puzzles to several levels.
Every media used in the exhibition, such as a personal business card, a catalog representing a group, posters communicating with the outside, is designed to the size of each level. For the digital poster, by creating animated crossword that repeats getting bigger and smaller, I made a strong visual impression.
Function wise, each graduate was numbered from 1 to 165 like each word of crossword. The numbers marked on a map and signs made visitors to easily find certain student work.